------------- Advertisement - Continue Reading Below -------------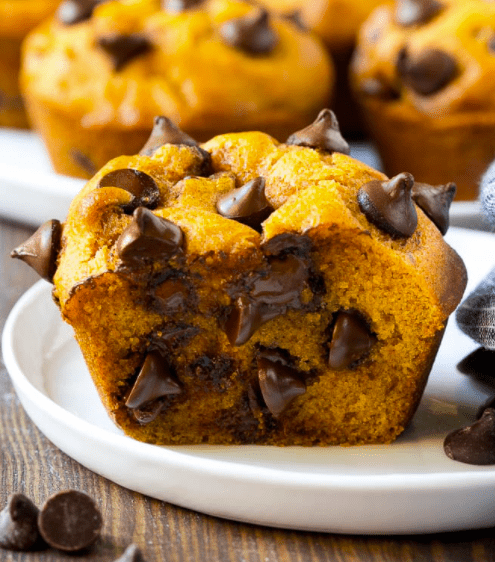 Ingredients
Pumpkin Chocolate Chip Cupcakes
1 1/4 cup all-purpose flour
1/4 cup cornstarch
1 tsp baking powder
1/2 tsp baking soda
1/4 tsp salt
1 1/2 tsp ground cinnamon
pinch ground cloves
pinch nutmeg
1/2 cup vegetable oil
2/3 cup brown sugar , packed
2/3 cup white sugar
2 large eggs , room temperature
1 1/2 tsp vanilla extract
1 cup pumpkin puree , not pumpkin pie filling
1/3 cup milk , buttermilk or regular
3/4 cup mini chocolate chips*
Chocolate Frosting
1 cup unsalted butter , room temperature
3-4 cups powdered sugar , sifted
3/4 cup cocoa powder , sifted
6-8 tablespoons whipping cream
1/4 cup mini chocolate chips , for decorating
Instructions
Make the Pumpkin Chocolate Chip Cupcakes
Preheat the oven to 365F degrees. 
Line 2 muffin pans with large muffin papers (you'll end up with about 18 cupcakes total). 
In a medium bowl whisk together the flour, cornstarch, baking powder, baking soda, salt, cinnamon, nutmeg & cloves
In a separate large bowl beat together the oil and sugars using an electric mixer. Then beat in the eggs and vanilla. 
Turn off the mixer and stir in the pureed pumpkin. 
With the electric mixer on low speed, beat in the flour mixture alternating with the milk. 
Turn off the mixer and stir in the mini chocolate chips. 
Spoon the batter into the prepared muffin pan, filling each about 2/3 full. Bake for 15-18 minutes, or until an inserted toothpick comes out clean. 
Make the Chocolate Frosting
In a large bowl using a stand mixer, beat the butter until very fluffy. 
Turn the mixer to low speed and beat in 2 cups of the powdered sugar, followed by the cocoa powder. 
Beat in the rest of the powdered sugar about 1/2 cup at a time alternating with 1-2 tablespoon of whipping cream until the desired consistency and sweetness level is reached. 
Frost the cooled cupcakes with a piping bag (I used a 1M tip) or a knife. Decorate with more chocolate chips. 
Notes
I recommend using mini chocolate chips because large chocolate chips are heavier and can sink to the bottom of the cupcakes as they bake.