------------- Advertisement - Continue Reading Below -------------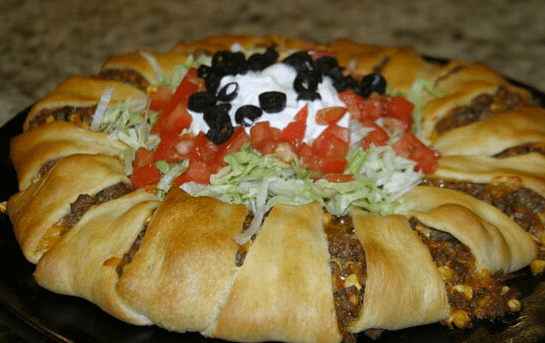 How to Make this Pillsbury's Crescent Roll Taco Bake Recipe ??
I got this nutritional recipe from a friend, and I have long prepared it. Well, I feel it will be a delight to share it with you all out there. It is called Pillsbury's Crescent Roll Taco Bake, the crust (outer part) of it, is made from refrigerated crescent roll dough and the ground beef ( which ingredients are meat, onion, cheese, and garlic) is cooked to be brown. What I first do is pressing the dough unto a baking dish. My guests are always commending my tasty crust same with my Zesty filling and crunchy topping because I make them super-rich.
I bet you would love this straightforward and easy to make casserole recipe just like other casserole recipes. If you relish buttery filled crescent roll crust having your most loved taco fixings, then you should be prepared to lick your hands clean especially when it is topped with tomatoes and shredded lettuce. With all these rich ingredients in place, you should be sure of a more real taco experience. Are you ready to relish this? Then check out this recipe
Duration
Preparation: 25 mins
Cook time: 25 mins
Total: 50 mins
Servings:6
You will need the following ingredients to prepare Pillsbury's Crescent Roll Taco Bake
Ingredients
Sliced avocado (optional)
Sour cream (optional)
Half small can slice olives if needed
1-2 diced tomatoes depending on the size
1-2 cups grated cheddar cheese shredded lettuce
One packet of taco seasoning
1 LB ground beef (or ground turkey)
Two crescent roll tubes
Directions:
Step 1: Display the two cubes of crescent pastry and let the thick sides in. remember to use some of the remaining crescent rolls to make the middle a lot thicker,
Step 2: Heat oven to 375 degrees
Step 3: Brown the beef; to achieve this use 1 pound ground beef, onion, garlic, pepper, tomatoes, dried basil, salt, and pepper. Then mix green pepper, beef, onion and, garlic in a big saucepan. Cook and stir the beef still brown, you can then add other ingredients and simmer for some minutes and keep aside. By the way, a 4.5oz can of Old El Paso chopped green chiles can be added to the beef mixture
Step 4: Place the beef in a circle form inside the laid out crescent rolls. Separate them into eight triangles. You can place each in an ungreased 9- inch square pan or better still on a 10-inch pie plate. Do press over the bottom of the rolls as well as the upsides to form a crust.
Step 5: Add cheese to the top and pull over the spread crescent rolls while tucking in the meat and cheese. You can as well add tomato, lettuce, sour cream, and what have you for your tacos in the middle too.
Step 6: You can bake between 20-25 minutes, then it be till crust is deep golden brown and the cheese has already melted. You can serve it piping hot with toppings of tomato or lettuce or additional sour cream, avocado slices, or salsa.
The nutritional value of this recipe per serving
Calories:360
Potassium: 120mg
Calories from fat:190
Saturated fat:9 kg
Trans fat: ½ g
Cholesterol: 50mg
Sodium: 810mg
Total carbohydrate:26g
Protein:17g
Daily value
Vitamin A: 8%
Vitamin C :0%
Calcium: 8%
Iron:10%
Expert tips for this recipe
Firstly, have the meat filling thoroughly cooked and leave it to cool a bit before spreading the crescent dough out. Always spoon the filling in an equal mound to surrounds the centre opening, this will leave plenty of dough to wrap it as well over it. You can use either a table knife or small spatula to tuck in the dough well.
Give a nice glossy finishing to your dough by brushing it using an egg that was already beaten with a spoonful of water before you slide it into the oven. If you don't like the ground beef you can substitute it with a ground chicken
You can make a taco-style salad to serve with your crescent ring. You can achieve this with halving cherry tomatoes, tossing shredded romaine lettuce, slices of radishes, and chunks of avocado. Now, stir some green spicy or red taco sauce to make a creamy dressing into some plain ranch dressing and drizzle over the top.
Simple cooking tips to aid weight loss
– Be mindful of your salt, even with the specific measurements for salt in your recipe, you still need to be careful of salt used to avoid water retention in the body which will enable bloating.
– Add a lot of veggies to your dish and always go the natural route than getting canned ingredients. Canned foods contain more cholesterol which will heighten weight gain
– Always try to add a source of lean meat or low fat protein to your meals. You can always substitute your beef for healthy meat like chicken wings
– Always try to swap your fatty ingredients where necessary with healthy options that will help with weight loss e.g. recipes that need butter can be swap with either unsaturated fat like olive oil to aid weight loss
– Try to limit the ingredients used for a recipe, the more ingredients, the more you load your meals with calories which in turns bring weight gain.
Conclusion
I can bet that your taco night can't remain the same again with this Pillsbury's Crescent Roll Taco Bake recipe. If you have been wondering how taco seasonings and crescent rolls can be combined to have an impressive presentation, worry no more because this top-rated Pillsbury recipe is all you need to know about.
This is a delicious and rich in nutrients recipe. The truth is while the finished crescent roll taco might seem a dish that may take much of your time and maybe expert-level skill, but the trick is that it isn't. This dish can be put together in no time and in an easy way thanks to the Pillsbury refrigerated crescent dinner rolls, and again, it is made to suit the taste of the family.
------------- Advertisement - Continue Reading Below -------------