------------- Advertisement - Continue Reading Below -------------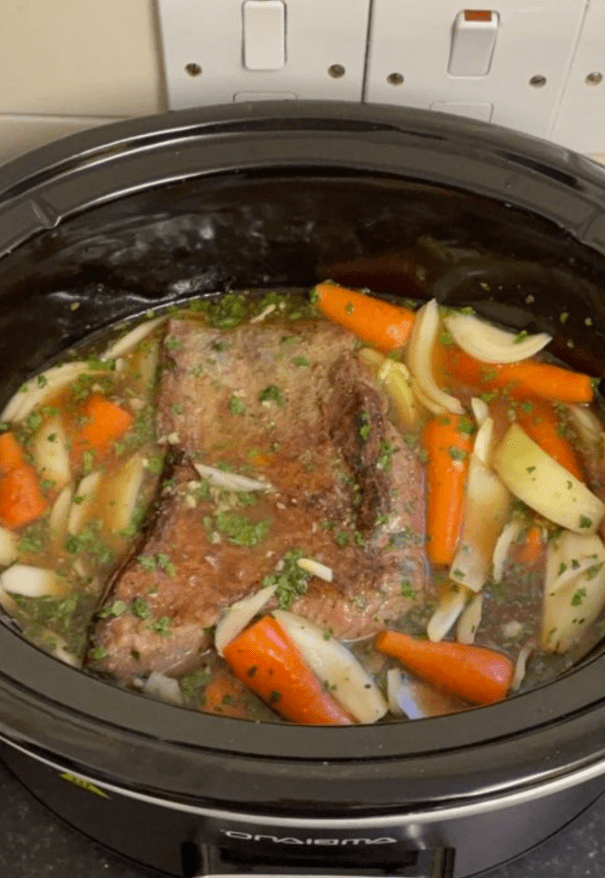 Spray slow cooker with cooking spray. Place potatoes, carrots, onion and celery on the bottom of slow cooker.
how to make this amazing LOW CALORIE POT ROAST ??
Ingredients:
3 1/2 pounds sirloin tip roast, trimmed
1/4 cup flour
2 teaspoons salt
1/8 teaspoon pepper
3 carrots, peeled and sliced
3 potatoes — peeled and quartered
2 Small onions – sliced
1 Stalk celery — cut in 2″ pieces
1 2 oz jar mushrooms – drained or 1/4 cup mushroom gravy
3 tablespoons flour
1/4 cup water
Directions:
Trim all excess fat from roast
brown and drain if using chuck or another highly marbled cut.
Combine 1/4 cup flour, the salt and pepper. Coat meat with the flour mixture.
Place all vegetables except mushrooms in Crock-Pot and top with roast (cut roast in half, if necessary, to fit easily).
Spread mushrooms evenly over top of roast. Cover and cook on Low for 10 to 12 hours.
If desired, turn to High during last hour to soften vegetables and make a gravy.
To thicken gravy, make a smooth paste of the 3 tablespoons flour and the water and stir into Crock-Pot.
Season to taste before serving.
Serves 4 to 6.Cooking time (duration): 30Diet (other): Low calorieNumber of servings (yield): 4