------------- Advertisement - Continue Reading Below -------------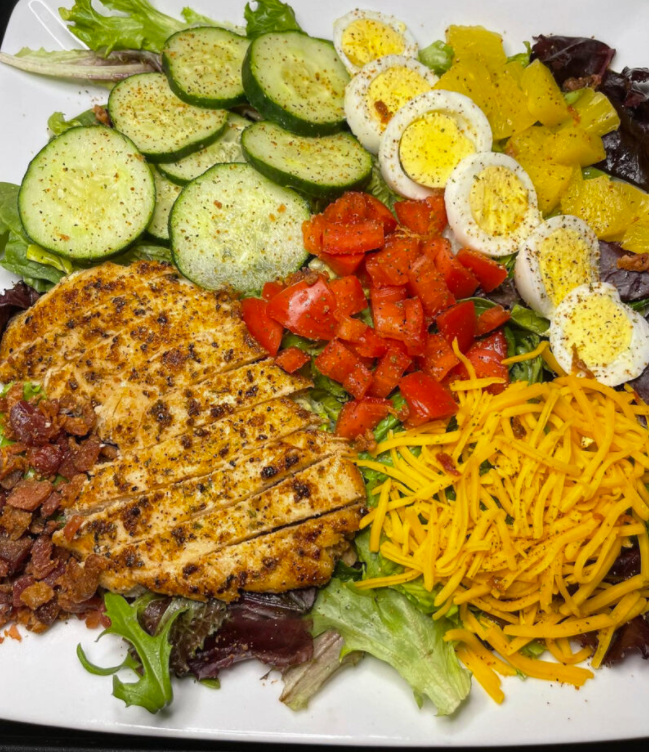 INGREDIENTS
1 1/2 pounds organic chicken breast
MARINADE
1/2 cup olive oil
1/2 cup lemon juice about 2 lemons
4 teaspoons garlic oil*
2 tablespoons coconut vinegar
2 teaspoon salt
1/2 teaspoon black pepper
1/4 cup dried oregano
SALAD
3 romaine hearts, washed and chopped
1 pint organic cherry tomatoes, halved
1/2 cup pitted kalamata olives, halved
1 english cucumber, chopped
1 red or orange bell pepper, chopped
1/4 green onion, chopped about 1 bunch, green parts only*
avocado if desired*
DIRECTIONS
If chicken breast are large, pound them out to make more even or slice in half horizontally. Place them in a medium bowl and set aside.
In a measuring cup, combine olive oil, lemon juice, garlic oil, coconut vinegar, salt, pepper, and oregano. Whisk to combine.
Pour 1/2 cup of the mixture into a jar to be used to the dressing and pour the remaining mixture over the chicken.
Marinade chicken for 30 minutes or up to overnight. You can use that time to cut the veggies if that's not already prepped.
Place the cut romaine in a bowl (or bowls) and top with all the veggies.
Once the chicken is ready to cook, heat up a skillet over medium heat and add the chicken with some of the marinades to the pan.
Cook 3-4 minutes on each side, or until cooked through.
Cut into strips and place on the salad.