------------- Advertisement - Continue Reading Below -------------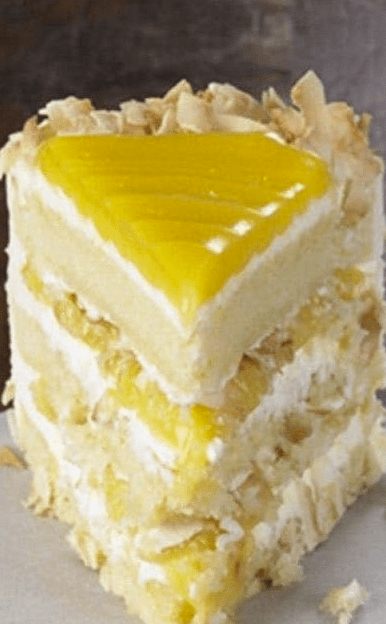 Homemade Lemon Coconut Pie is juicy and delicious! Homemade loaf cake filled with lemon and coconut zest and topped with lemon cheese cream and shredded coconut. No layers or hassles so anyone can do it!
To Make this Lemon Coconut Cake you'll Need :
Ingredients :
lemon cake:
° 1 1/2 cups all-purpose flour
° 1 1/2 tsp powder baking
° 1/4 tsp salt
° 1/2 c coconut shredded
° 1 cup coconut yoghurt I used full fat greek coconut yoghurt
° 3/4 cup granulated sugar
° 3 large eggs
° rind of a medium sized lemon, finely grated
° 2 tablespoons lemon juice
° 1/3 cup melted coconut oil
° 1/2 teaspoon almond extract

Cream cheese frosting:
° 2 ounces soft cream cheese
° 4 tablespoons soft unsalted butter
° 1 1/2 cups powdered sugar
° 1/8 teaspoon almond extract
° 1/2 tsp grated lemon peel
° 1-2 tablespoons milk or half and half
° Shredded coconut and lemon zest optional for garnish
Directions :
cake:
Preheat oven 350 degres F . Grease 9 * 5 loaf pan & set apart .Place the flour, baking powder, salt and shredded coconut in a medium bowl.
In a large bowl, whisk together yogurt, sugar, eggs, lemon peel, lemon juice, coconut oil, and almond extract until well blended.
Add the dry ingredients to the wet ingredients and stir until well combined, the mixture becomes thick.
Pour blend to prepared loaf pan & smooth top. Baking 45-55 min Place the pan on a rack to cool.
frost:
Whisk the cream cheese and butter with a hand or hand mixer until smooth.Add the icing sugar and beat until smooth. Add 1 tablespoon of milk and lemon peel extract and whisk until combined. If the icing is too thick, add more milk to loosen it, spread the icing on the cooled cake and top with grated coconut and lemon peel.
------------- Advertisement - Continue Reading Below -------------
Enjoy !