------------- Advertisement - Continue Reading Below -------------
I love S'mores !! So when I made S'mores Cupcakes, I knew I would have at least 2 cupcakes and I did !!! If you haven't already tried making S'mores cupcakes, I highly suggest you do it because it's delicious. I shared this cupcake with my friends and they are all back for a second cupcake, it was so good!
If you are looking for a chocolate cake from scratch, here's my favorite recipe! Milk chocolate cake.
These cupcakes were so delicious, I had to put a couple of pictures!
S'mores cupcake with Hershey chocolate bits
Instead of actual marshmallows, you can use marshmallow filling to decorate your cupcakes. It's easier and no grilling required.
You can decorate Smores' cupcakes with ganache for that extra flavor of chocolate! Yum!
Need a cold dessert fix? Decorate the marshmallow with your favorite flavor of ice cream!
Before starting the mixing process, make sure the oven is preheated to 350 ° F, and line the muffin tray with cupcake liners.
Hershey S'mores Cupcakes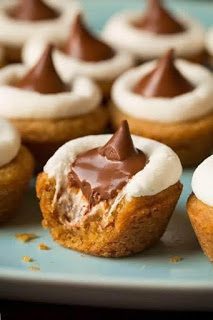 Ingredients
For veneers:
° 1 to 1/3 cup graham crumbs
° 5 tablespoons of sugar
° 5 tablespoons unsalted butter, melted
For Chocolate Cupcakes:
° 1 cup sugar
° 3/4 cup + 2 tablespoons all-purpose flour
° 6 tablespoons of Hershey's cocoa powder
° 3/4 teaspoon baking powder
° 3/4 teaspoon baking soda
° Salt 1/2 tsp
° 1/2 cup milk – at room temperature
° 1/2 cup vegetable oil
° 1 large egg, lightly beaten
° 1 teaspoon vanilla
° 1/2 cup boiling water
Fill marshmallow:
° 2 egg whites
° Half a cup of sugar
° 1/4 teaspoon cream of tartar
° 1 teaspoon vanilla
For milk chocolate ganache:
° 1 cup heavy whipping cream
° 10 oz. Of milk chocolate, finely chopped
° 1/2 tablespoon vegetable oil
Instructions
To make the peel:
To begin with, place the rack in the middle of the oven and set the oven temperature to 325 ° F. Line the cupcake boxes with 16 cupcake liners and set aside.
Combine crunchy graham crumbs, sugar and melted butter together in a small bowl, mixing well with a fork.
Make sure to squeeze about 1 to 1/2 tablespoon of the batter into the bottom of all cupcake liners. Then bake for 6 minutes. Set aside to cool.
To make a cupcake:
Choose a large bowl and mix together cocoa, sugar, flour, baking powder, baking soda and salt.
After that, add the oil, milk, eggs and vanilla and mix for two minutes with an electric hand mixer on medium speed, then add the boiling water and whisk the mixture (until the mixture becomes thin). Once done, divide the batter evenly between the cupcake liners on the crust (it should be 3/4 full).
Please bake for 20 to 25 minutes, or until a toothpick is inserted in the center and comes out clean and then set aside to cool in the pan. Take a sharp knife or a cupcake cutter and empty the centers of each cupcake (be sure to cut off the top of each center and save for later to put it back on the filling).

------------- Advertisement - Continue Reading Below -------------
To making Marshmallow filling:
Beat egg white, sugar and cream of tartar together in a heat-proof bowl over a pot of boiling water, until the sugar dissolves (be careful, the water should not touch the bottom of the bowl).
At this point, immediately whisk over the boiling water until the egg mixture is warm, then take it off the heat and continue mixing with the mixer until peaks form. Finally, adding vanilla also mixing well.
Well, now you can transfer the filling to a tube bag with a round head or use a plastic bag, corner cut-out and cupcake filling. Finally, place the top center of the cupcake.
To make ganache:
Melt the chopped milk chocolate and 1/2 tablespoon vegetable oil in a small saucepan over low heat, stirring until completely smooth.
Directly, removing from heat also adding cold heavy whipping cream, and stirring well to combined.
Using a spoon to sprinkle ganache on cupcakes. It's wise to put ganache in the refrigerator for a short time to keep it before cupcakes in case they runny.
That's right, keep it in the fridge.