------------- Advertisement - Continue Reading Below -------------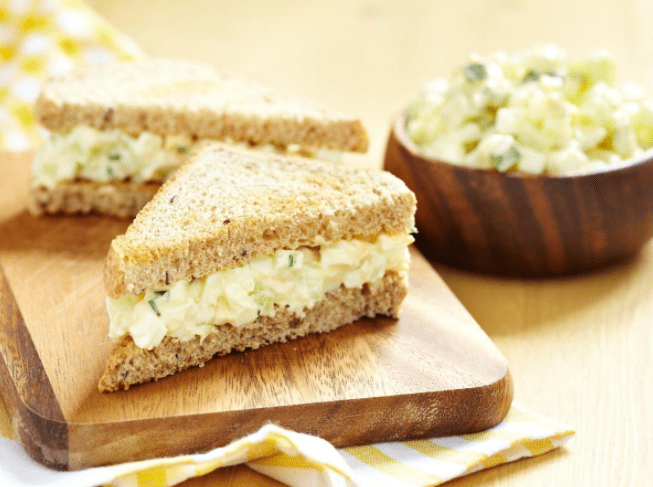 This classic egg salad is enriched with hard boiled eggs, cream cheese, celery, and croissants! This unique egg salad sandwich is the ultimate and easy to prepare!
I remember as a kid I thought boiled eggs were disgusting – in egg salad or otherwise. I couldn't imagine why anyone would want them, let alone breakfast or even a snack.
So it's funny how I end up loving the egg salad sandwiches at lunch, because the main ingredient is boiled eggs. Sure, not all hard-boiled eggs are good, but this distinction is usually hard to tell – as is the case with babies, when you try to get them to eat the veggies in their soup.
I don't know what happened between my childhood and my adult life to change my mind, but I love the creamy texture and the consistent flavor.
After playing around with the flavors and techniques, I come across this amazing recipe for this adorable egg salad.
Over the years, I have tried the types of breads on which I put this delicious egg salad. Sometimes that's just what I have at home, but other times I like to go out of my way and use a buttery croissant!
Hard boiled eggs are a superfood that can be eaten in a number of ways. They are great for breakfast, lunch, dinner and snacks! The current recommendation is to eat no more than 3 boiled eggs per day.
Ingredients:
° 2 tsps butter
° 3 oz. Cream cheese, room temperature
° 2 tablespoons chopped celery
° 1 tsp mayonnaise
° 1 teaspoon grate onion
° 1 teaspoon sugar
° 1/2 tsp Lemon Juice
° 1/4 tsp salt
° 1/8 teaspoon pepper
° 6 eggs, hard boiled & finely chopped or mashed with a fork.
° Croissant or bread
° Paprika (optional)
° Dill pickle (optional)
° Bacon (optional)
Instructions:
In a medium bowl, beat together the butter and cheese until smooth.
Add celery, mayonnaise, onion, sugar, lemon juice, salt and pepper until smooth.
Add eggs and mix well.
Cover and put in the refrigerator for an hour or more.
Serving it in bread OR croissants.
Enjoy !