------------- Advertisement - Continue Reading Below -------------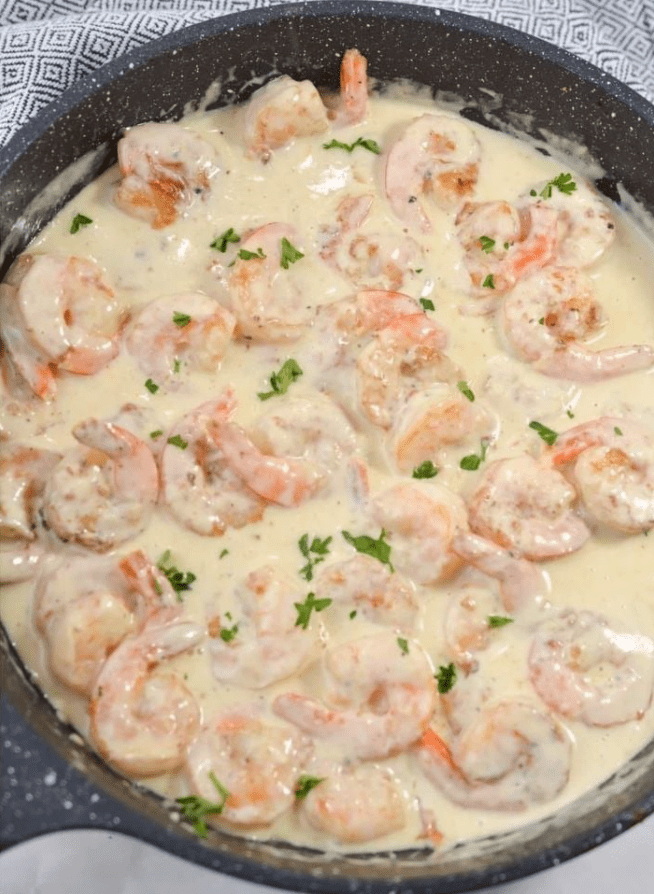 How to make creamy garlic shrimp?
This creamy garlic shrimp is a tender and juicy mixture, whipped into a creamy sauce. It tastes luxurious, comforting and totally heavenly, and it's so quick and simple to prepare that you can have creamy garlic shrimp on the table in less than 15 minutes!
Shrimp is one of my favorite proteins because it is easy to prepare, and nowadays, supermarkets sell premium quality frozen peeled shrimp. Although fresh seafood is often healthier, it's hard to beat the versatility of using pre-peeled frozen shrimp on busy weeknights.
It's also tough to beat the combination of heavy cream, garlic, and shrimp to satisfy crowds all-round !
Ingredients for this shrimp recipe:
° Semi a pound peeled & flowered shrimp wiith tails.
° 1 cup white Wine (about cooking.)
° 1 cup thick whip cream.
° A 1/4 cup parmesan cheese.
° 3 tsps unsalted butter.
° 2 tsps olive oil.
° 3 tsp chopped garlic.
° Salt & ground pepper about seasoning.
Directions :
Step 1:
At first, I heated two tablespoons of olive oil in a skillet on the stove over medium-high heat.
Step 2:
Once, the oil heated up, I added the shrimp and seasoned it with sea salt and ground black pepper.
Step 3:
After that, I sautéed the shrimp for several minutes until they were fully cooked and turned golden brown.
The fourth step:
Then I reduced the low medium heat, added the butter and melted for 1 minute.
Fifth step:
Once the butter melted, I added the chopped garlic and heavy cream to the skillet, as well as the white cooking wine, and continued stirring and boiling until the liquid was reduced by half.
The Sixth Step:
At this point, I finished my Creamy Garlic Shrimp, and it was ready to serve !!!!
The creamy garlic shrimp go well with pasta or mashed potatoes. To serve, I like to sprinkle chopped green onions over the shrimp for a burst of freshness.
++ Notice:
Here is a simple recipe to follow. The one thing I do differently from most recipes is add garlic right after the shrimp is partially cooked. The reason for this is that if garlic is added first, it will burn when ripe. It's not a good idea to eat bitter, burnt chunks of garlic, and it doesn't look good in a creamy white sauce. So you get all the flavor and not burn by adding it later.
------------- Advertisement - Continue Reading Below -------------
Enjoy !