------------- Advertisement - Continue Reading Below -------------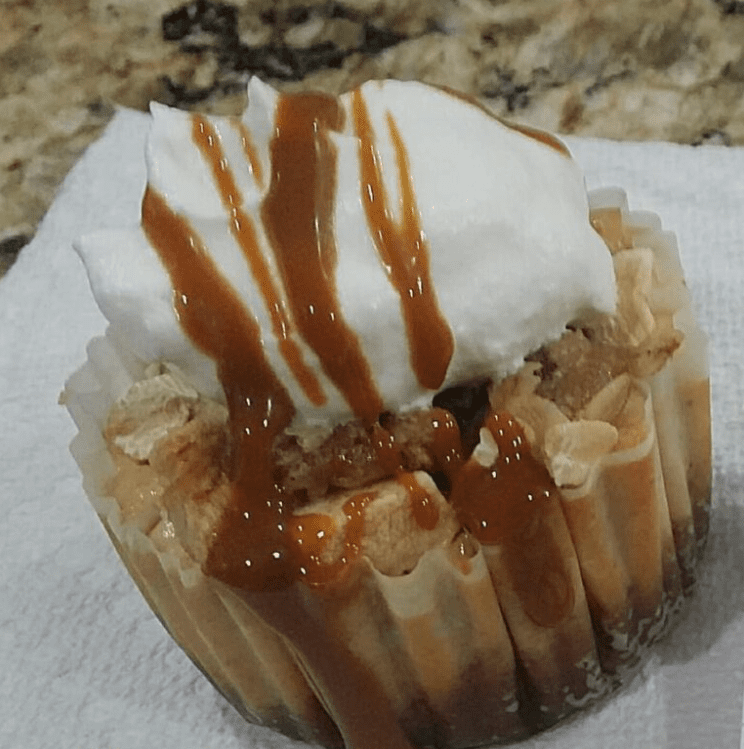 How To Make Caramel Apple Crisp Cheesecake Bars?
Ingredients for making cheesecake with apple pie:
For the base:
1 cup powdered biscuit
1 cup rolled oats
Cup butter, melted
¼ cup brown sugar
For the cheesecake:
2 block (8 oz) cream cheese, melted
2 large eggs
¼ cup brown sugar
¼ cup white sugar
½ 1 teaspoon cinnamon
⅛ 1 teaspoon ginger
2 tablespoons cornstarch
2 teaspoons pure vanilla extract
2 apples, peeled and thinly sliced
To add the crunchy apple:
¼ cup all-purpose flour
1 cup rolled oats
¼ cup brown sugar
½ 1 teaspoon cinnamon
2 tablespoons of melted butter
How to make cheesecake with apple pie:
To prepare the cheesecake base: Preheat the oven to 350 degrees then grease a 9-inch cheesecake pan. In a mixing bowl, mix the crushed biscuits, oatmeal, butter and sugar. Press the mixture into the bottom of the greased cheesecake pan.
Bake the base until golden in color, 7-8 minutes. Allow it cooled down when you prepared filling.
To make the cheesecake filling:
In the bowl of a stand mixer with a paddle, beat the cream cheese with eggs until the consistency is smooth without lumps. Add brown sugar, white sugar, cinnamon, ginger, cornstarch and vanilla, then blend until combined. Pour the mixture over the cheesecake base.
Garnish the face with a layer of apple slices.
To make a crunchy layer: In a medium bowl, mix the flour, oats, brown sugar, cinnamon and butter. Drizzle mixture on apple layer.
Bake the cheesecake until golden, for 43 – 45 minutes. Let the cheesecake cool for 15 minutes, then leave it overnight in the fridge.
When it is time to serve, decorate the face with a scoop of whipped cream and spread the caramel sauce over it.
ENJOY !