------------- Advertisement - Continue Reading Below -------------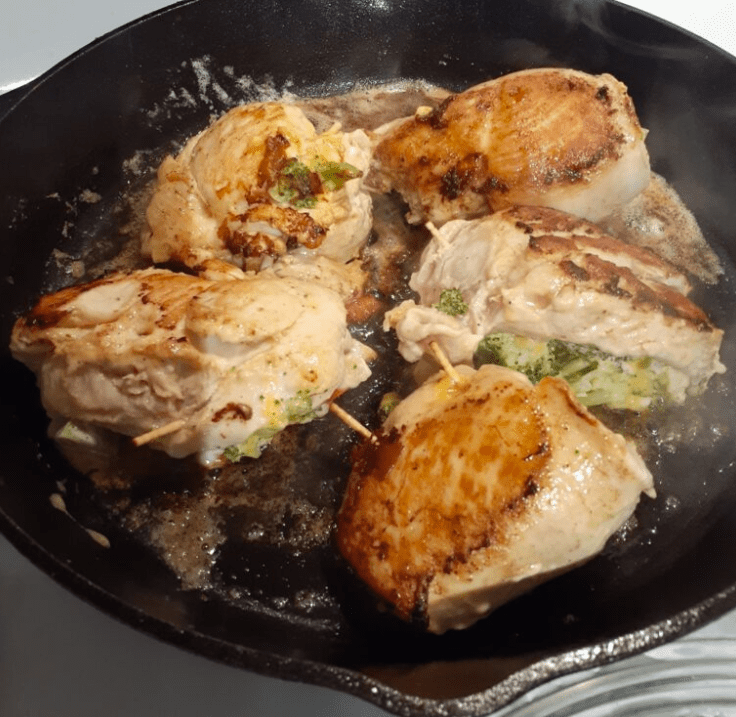 Broccoli and Cheese Stuffed Chicken Breasts are stuffed with a delectable broccoli cheese combination and then sautéed in a pan before being baked to perfection. Extremely simple and super delicious!
Chicken breasts with succulent, crispy edges filled with a delicious, creamy mixture of cheddar, cream cheese, and broccoli. Broccoli Cheese Stuffed Chicken Breasts are opulently flavorful. Simple to prepare and ideal for a substantial evening main.
When it comes to comfort food, nothing beats chicken and cheese. I've taken it a step further by converting the traditional broccoli-cheddar soup tastes into a filling. However, this is not your typical recipe for filled chicken breasts; rather, it is a template.
Broccoli, cheddar, cream cheese, and herbs combine quickly to create the most delicious filling. However, don't allow the ideal combination of broccoli and cheddar to prevent you from using whatever you have on hand.
------------- Advertisement - Continue Reading Below -------------
Additionally, you may use frozen broccoli with a few modifications. Frozen broccoli adds moisture, and our aim is a dense but not runny filling. Therefore, if using frozen broccoli, it is critical to fully defrost it before proceeding with the preparation as instructed.
HOW TO MAKE BROCCOLI CHEESE STUFFED CHICKEN BREAST?
These are all the ingredients needed for this recipe:
Four chicken breasts, you need to remove the skin and bones.
A large spoon.Of olive oil.
Two small spoons.Of Italian seasoning.
A small spoon.Of garlic powder.
1/2 small spoon.Of onion powder.
250 grams.Of chopped broccoli florets.
1 large spoon.Of water.
½ Cup.Of shredded cheddar cheese.
¼ Cup.Of low-fat cream cheese.
1 large spoon.Of Dijon mustard.
A minced garlic clove.
Salt and pepper
This is how to make our stuffed chicken breasts, just follow the steps below and you'll have a delicious lunch!!!
Step 1:
To steam broccoli, I finely chopped the broccoli florets and combined them with approximately 2 large spoons of water in a microwave-safe bowl.
Step 2:
Then, I microwaved the broccoli on high for 2 to 3 minutes, covered with plastic wrap.
Step 3:
After that, I sliced each chicken breast horizontally with a sharp knife to create a pocket, and I continued cutting about 1/2 inch from the ends and edges.
Step 4:
Next, I sprinkled my four chicken breasts liberally with Italian spice, garlic powder, smoked paprika, and of course salt and freshly ground black pepper.
Step 5:
Following that, I combined the steamed chopped broccoli, with bell pepper, minced garlic, cheeses, and salt and pepper in a large bowl, and I set it aside.
Step 6:
And I distributed the mixture equally across the chicken breasts, and I secure them using toothpicks.
Step 7:
At this point, I heated the oven to 400 degrees Fahrenheit.
Step 8:
In a large cast-iron or oven-safe skillet, I heated a large spoon of olive oil over medium-high heat.
Step 9:
And I cooked for 2 to 3 minutes for each side until browned, I covered with aluminum foil and baked for approximately 20 minutes, until well done.
Serve this simple chicken meal with a fresh side salad, garlic green beans, or mushroom rice. If you want to make it heartier, add some mashed or roasted potatoes. For a more nutritious variation, use grains such as couscous or quinoa. This Broccoli Cheese Stuffed Chicken pairs well with a variety of side dishes! Enjoy it!!