------------- Advertisement - Continue Reading Below -------------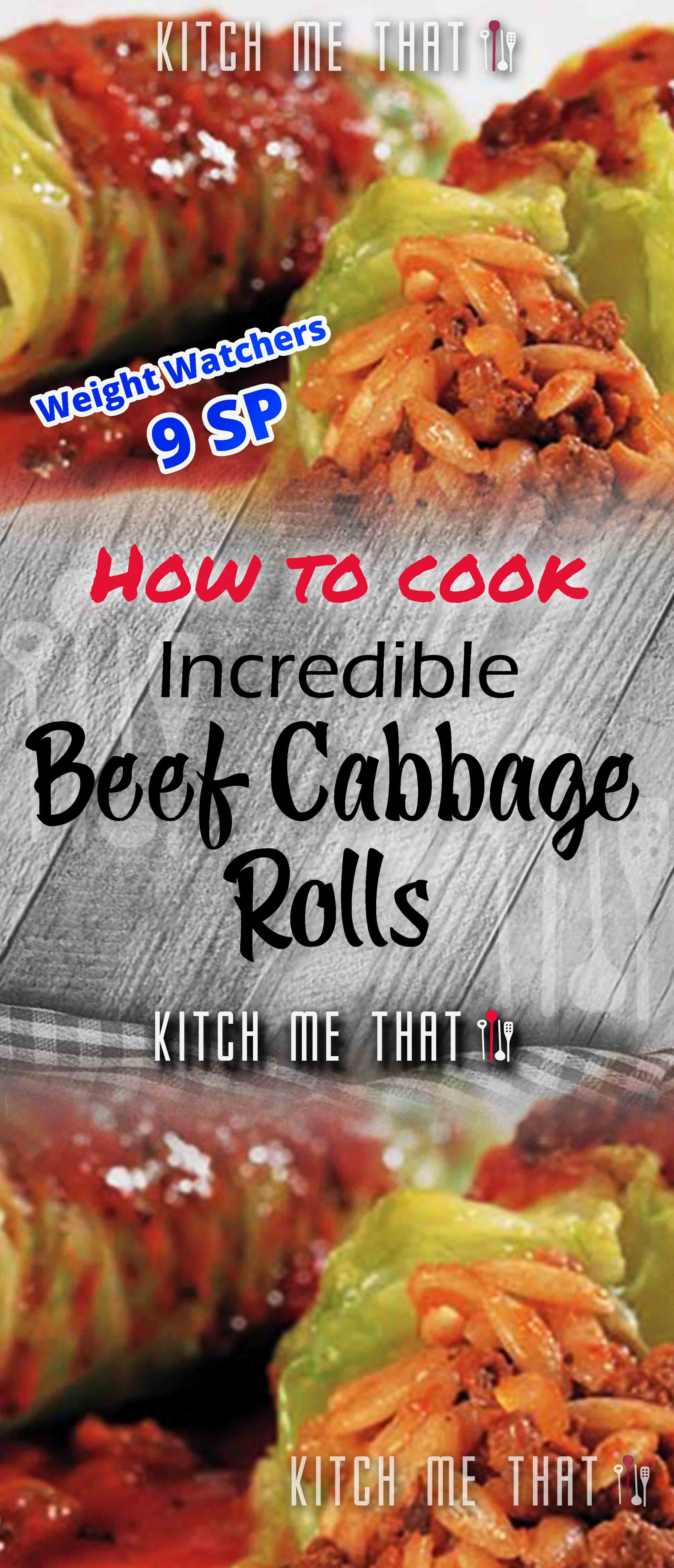 This is a #Skinny 9 SMARTPOINTS with exceptional, and unique Flavor. Enjoy it since it's at your fingertips"
Ingredients
1/3 head Savoy cabbage, about 8 whole leaves
1/2 lb uncooked lean ground beef
1/2 cup uncooked white rice
1/2 cup water
1/4 cup seasoned bread crumbs
1 medium size carrot, peeled and grated
1 medium size onion, finely chopped
1 garlic clove, minced
1 large egg white
1/2 tsp salt
1/4 tsp ground black pepper
2 tsp olive oil
1 (29 oz) can diced tomatoes, with basil, garlic and oregano
Directions:
1. Wrap cabbage leaves in plastic wrap or moist paper towels and microwave on HIGH 2 minutes,
until soft. Cut off the thickest, white portion of the spine of each leaf to make leaves pliable and easy to fold; set aside.
2. Combine beef, rice, water, bread crumbs, carrot, onion, garlic, egg white, salt and pepper in a large bowl; mix well.
3. Spoon about 1/4 cup of beef mixture onto center of each cabbage leaf. Fold up bottom of leaf to cover filling, tuck in sides and then continue rolling to make loose rolls (rice will expand during cooking so it is important not to roll them too tightly).
4. Heat oil in a large stockpot over medium-high heat; add rolls and saute until golden brown on all sides, about 5 minutes, turning frequently. Add tomatoes and bring to a simmer. Reduce heat to low, cover and cook until cooked through, checking pot every 15 minutes and stirring to prevent sticking, about 1 hour. (If sauce thickens or reduces add water).
------------- Advertisement - Continue Reading Below -------------
Yield: 4 Servings (2 Rolls Per Serving)
Weight Watchers Smartpoints = 7 per serving
Nutritional Info:
Calories: 228.9; Fat: 7.0 g; Cholesterol: 32.5 mg; Carbs: 26.6 g; Fiber: 5.2 g; Protein: 17.9 g
For the latest Diet Recipes, Meals Plan & tips to help you add more Happier & Healthier Lifestyle Routine to your day.
Follow us in PINTEREST By Clicking Here to get our latest Healthy Recipes , and Pin This NOW .. To Remember it !!!!