------------- Advertisement - Continue Reading Below -------------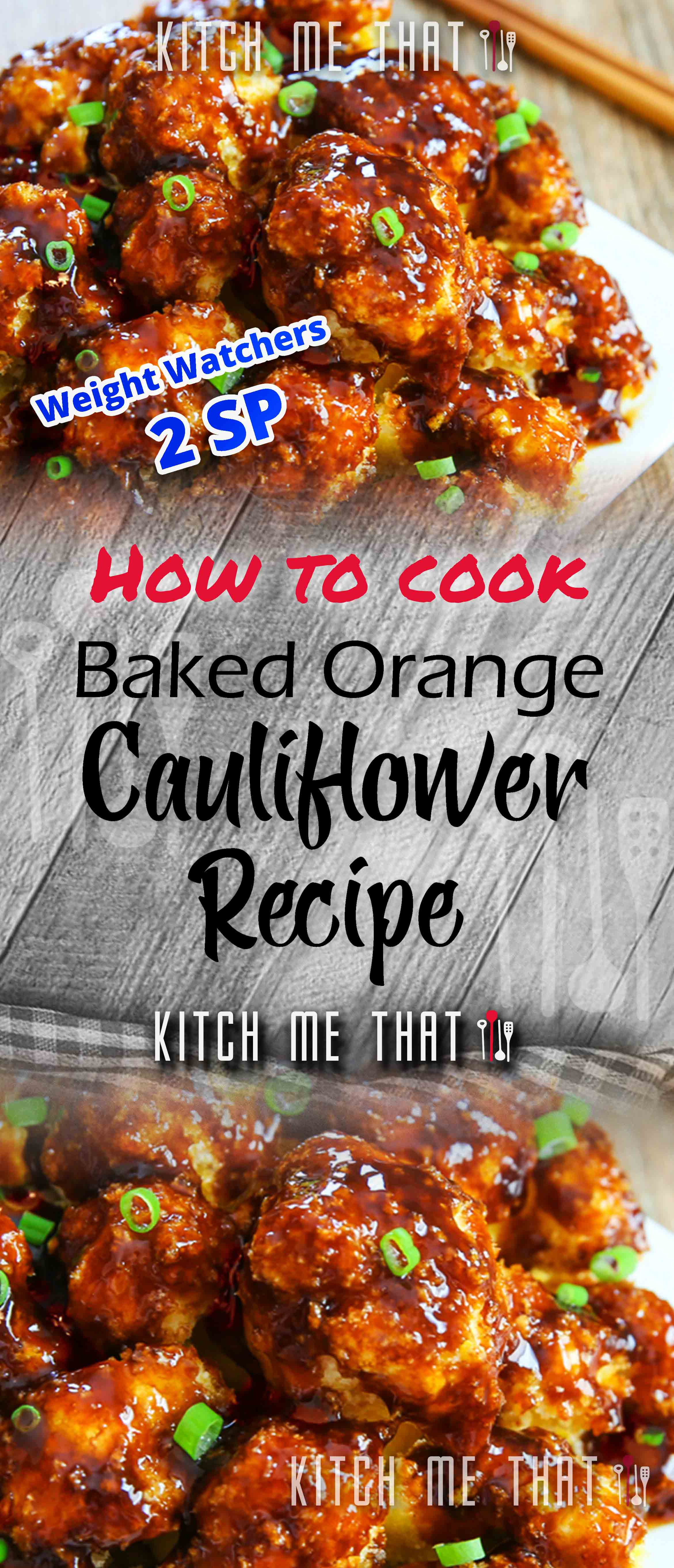 This is a #Skinny 2 SMARTPOINTS with exceptional, and unique Flavor. Enjoy it since it's at your fingertips"
Crispy baked cauliflower pieces are coated in an orange sauce. It's like orange chicken but with cauliflower instead!
INGREDIENTS:
1/2 head of cauliflower, cut into bite sized florets
2 cups panko bread crumbs (Kikkoman brand preferred for even baking)
2 large eggs, whisked
for the sauce:
2 tbsp water
1/4 cup + 2 tbsp orange juice
1/4 cup granulated white sugar
2 1/2 tbsp vinegar
1/8 cup low sodium soy sauce
1 clove garlic, minced
1/4 tsp ginger, minced
1 tsp sriracha (if you find this to be too much spice, you can replace half of it with ketchup to get the orange color without affecting flavor too much)
1 tsp ketchup
1 tbsp water + 2 tsp cornstarch
DIRECTIONS:
Preheat oven to 400F. Set aside whisked egg in a small mixing bowl. Add about 1/2 cup of panko breadcrumbs into a ziploc bag. Line an extra large baking sheet with parchment paper.
Dip cauliflower in egg mixture and then shake a few times so that excess egg drips off. You don't want to dampen your breadcrumbs with excess egg because then they won't stick to the cauliflower. Set aside dipped cauliflower on a cutting board or plate, so that more excess egg has a chance to drip off. Repeat with remaining cauliflower.
Take an egg dipped cauliflower and place into bag of breadcrumbs. Seal and shake a few times until it is completely covered in breadcrumbs. Remove and place onto baking sheet. Repeat with remaining cauliflower, adding an additional 1/2 cup of breadcrumbs to the bag whenever you run out. You can do a few cauliflower at a time, but I don't recommend more than 3-4 because your cauliflower won't be as well covered in breadcrumbs.
Bake for about 15-20 minutes or until coating is a dark golden brown and crunchy.
While the cauliflower is baking, make the sauce. Using a small saucepan, add all ingredients listed except the last set (1 tbsp water + 2 tsp cornstarch). Bring sauce to a low boil, stirring constantly. In a small bowl, completely dissolve cornstarch in water, then add to the mixture. Stir until sauce boils again and cook until sauce thickens. Drizzle sauce over cauliflower. Add fresh chopped scallions if desired.

------------- Advertisement - Continue Reading Below -------------
PointsPlus: 4
SmartPoints: 7
For the latest Diet Recipes, Meals Plan & tips to help you add more Happier & Healthier Lifestyle Routine to your day.
Follow us in PINTEREST By Clicking Here to get our latest Healthy Recipes , and Pin This NOW .. To Remember it !!!!