------------- Advertisement - Continue Reading Below -------------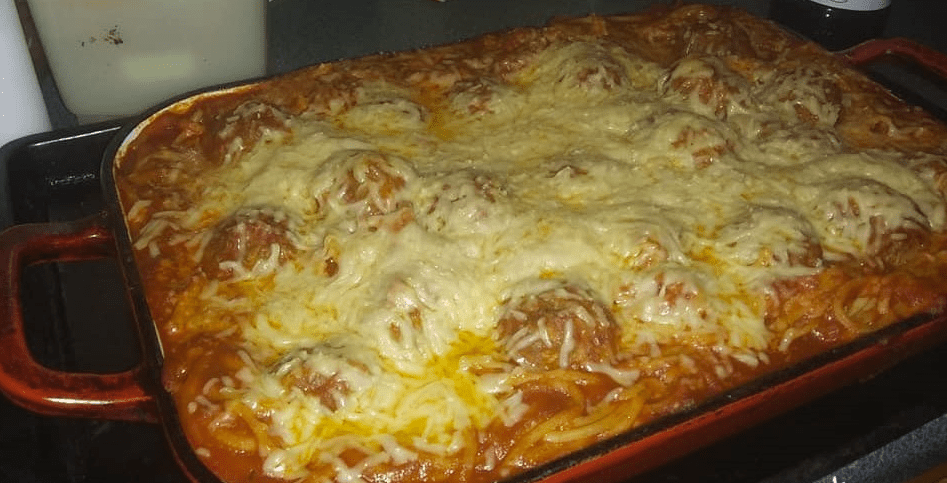 HOW TO MAKE BAKED MEATBALL & SPAGHETTI RECIPE?
The classic dish of spaghetti and meatballs is transformed into the most incredible baked cheesy casserole you've ever tasted! Undoubtedly a family favorite!
Spaghetti and meatballs are the ideal comfort meal for the whole family. It's a simple dish that you can tailor to your pickiest eater's preferences (for example, by saving noodles without sauce for the child who likes everything plain), and it's also reasonably priced (for the most part).
What I like most about this recipe, though, is that it is a fantastic meal prep dish. It freezes nicely, and after approximately a day of defrosting in the refrigerator, it is ready to serve just as if it had been freshly prepared. Every week, we have a frozen version of Baked Spaghetti on hand for emergencies.
Recently, we had some guests stop by for a visit, and this spaghetti casserole came to the rescue! I put it out to defrost first thing in the morning, and by the time they arrived in town, it was ready to go into the oven. The dinner was completed with some Garlic Bread, a simple salad, and freshly grated parmesan cheese on top. In the time it took them to unpack their vehicle, we were seated at the table for supper.
Using this casserole dish for potlucks or family get-togethers is also a good idea. The night before, you may prepare the dough and bake it in the morning while you are getting ready for work or your function. The servings for 8 people are substantial, and with sides and dessert, you could easily serve 10-12 people.
So to make it here is the list of all ingredients needed:
A medium spaghetti package of 12-ounces.
------------- Advertisement - Continue Reading Below -------------
Marinara sauce, I used three cups.
230 grams.Of mozzarella cheese.
2 large spoons.Of chopped fresh parsley.
The ingredients needed for the meatballs:
Ground beef, I used approximately 8-ounces.
Ground pork, I used approximately 8-ounces.
A large scrambled egg.
A quarter Cup.Of « Panko ».
A quarter Cup.Of freshly grated Parmesan cheese.
1/4 Tsp.Of garlic powder
1/4 Tsp.Of onion powder
1/4 Tsp.Of ground spices
A pinch of ground nutmeg.
Sea salt and freshly cracked black pepper, to taste.
A large spoon.Of olive oil.
And this is how to make it, all you need to do is following the steps below as directed:
Step 1:
Firstly, you need to set the temperature of the oven at 375 degrees Fahrenheit. Lightly oil or spray a 9-by-9-inch baking dish with nonstick cooking spray.
Step 2:
Season with salt and pepper to taste in a large mixing bowl after combining the beef and pork, the egg, the Panko and the Parmesan cheeses, the garlic powder, the onion powder, the allspice, and the nutmeg.
Step 3:
Stir with a wooden spoon or your clean hands until everything is thoroughly mixed. The mixture should be rolled into 1 1/4- to 1 1/2-inch meatball, yielding about 18-20 meatballs.
Step 4:
In a large stockpot or Dutch oven, heat the olive oil over medium heat until shimmering.
Step 5:
Cook the meatballs in batches, turning once, for approximately 2-3 minutes, or until they are browned on both sides. Transfer to a dish lined with paper towels and set aside.
Step 6:
Cook the pasta according to package directions in a large pot of boiling salted water until al dente; drain thoroughly and mix in the marinara sauce.
Step 7:
Add the spaghetti to the baking dish that has been prepped, then top with the meatballs and sprinkle with mozzarella.
Step 8:
Place in the oven and bake for 15-20 minutes, or until the mixture is bubbling and well heated.
Step 9:
Garnish with parsley, if preferred, and serve as quickly as possible to enjoy every creamy cheesy bit while it's warm.
I hope that you will enjoy this cheesy casserole, it's soo delicious, and for me, I think it's one of the easiest casserole recipes I've made before.