------------- Advertisement - Continue Reading Below -------------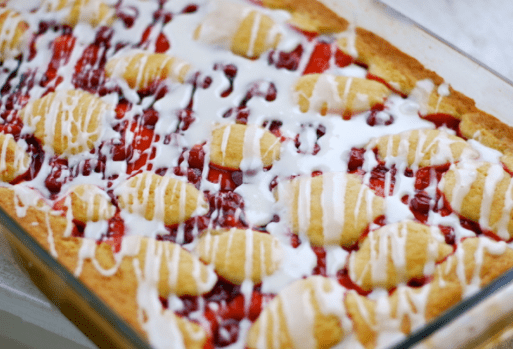 Yesterday I made a big pot of soup and dumplings, and this coffee cake. It's another yummy treat from my stash of authentic Amish recipes. I like it because it's delicious, easy, and impressive if you're having company. It's absolutely wonderful with coffee and tea. Feel free to substitute raspberry, apple, peach, or blueberry pie filling for the cherry if you like one of those more. I thought cherries might be fun and pretty for Valentine's Day morning.
preheat oven to 350 degrees F.
------------- Advertisement - Continue Reading Below -------------
for the cake:
1 cup unsalted butter, softened to room temperature
1 and 1/2 cups sugar
4 large eggs, beaten
1 teaspoon vanilla extract
3 cups all purpose flour
1 teaspoon baking powder
1 teaspoon baking soda
1 teaspoon salt
21 oz. cherry pie filling + 1/4 teaspoon almond extract
Generously butter a 10×15 glass baking dish.
In a large mixing bowl, mix butter and sugar until smooth and fluffy (about 1 minute.) Add eggs and vanilla. Mix well. (about 4 minutes.)
In a separate bowl, combine: flour, baking powder, baking soda, and salt using a wire whisk until well mixed.
Gradually add dry mixture to wet mixture until thoroughly combined. Spread batter evenly into prepared pan, reserving 1/2 cup of the batter for the top.
Mix the almond extract into the cherry pie filling. Top cake layer with an even layer of the pie filling, spreading it almost all the way to the edges of the batter.
Drop spoonfuls of the reserved batter over the pie filling. Bake for 30 to 35 minutes, or until golden brown and edges begin to pull away from the pan. Remove from oven and set pan on a wire rack. Allow cake to cool completely before drizzling with icing.
for the glaze:
1 and 1/4 cups powdered sugar
1 teaspoon vanilla or almond extract
3 Tablespoons fresh lemon juice or milk
Whisk until smooth. Drizzle evenly over cooled cake. This cake will keep in an airtight container at room temperature for up to 3 days.
Enjoy!
~Melissa